Why Is My Heat Pump Leaking Water Inside?
When summer ends and colder weather approaches, it's time to shift from summer mode to winter mode. For homeowners, this means shifting your focus to your heating system.
When choosing a furnace, boiler, or heat pump, many Maryland residents struggle to determine which heating system is best. A heat pump is an obvious choice for those who want a cost-effective, long-lasting, environmentally friendly, and highly efficient system.
Though heat pumps work well and efficiently most of the time, there's still a chance yours could leak. The first step you can take to prevent a leaking heat pump is choosing the right unit and having trained experts install it.
Our technicians offer heat pump installation of the highest-quality brands and strongly recommend you choose the right heat pump to lower your chance of leaks.
Have an Emergency?
We Can Help!
Reasons for Heat Pump Leaks
The reason for one leak may differ from the reason for another. Even if you have a trusted brand of heat pump, leaks are still possible. If you discover your heat pump is dripping water inside or outside the unit, call for repair immediately.
The three most common causes of heat pump leaks are:
Drain Problems
Most heat pumps have a drain pan, which collects normal condensation from the unit. If that pan becomes clogged with debris, mold, or algae, it could overflow and result in a puddle around your pump. In many cases, the system automatically turns off before this happens, but the problem will still need to be fixed before your heat pump runs again.
Frozen Evaporator Coils
In the summer, low refrigerant levels could lead to ice on the cooling coils. This impairs the cooling process and prevents the heat pump from working properly. The melting ice causes a leak.
A Dirty Evaporator Coil
The cold evaporator coil in your unit collects condensation from the air and drains it down into a pan, leading to another drain. If this coil is dirty, it malfunctions, and the water drips onto the ground.
Whether you find your furnace leaking water in winter or your heat pump leaking water outside of the unit, the team at James A. Wheat & Sons has the expertise you need.
Contact us online or call 301-670-1945 for heat pump repair in Gaithersburg, and we can quickly and properly fix the problem.
Solutions for Heat Pump Leaks in Maryland
You can prevent leaks and other damage by scheduling yearly heating unit inspections. Hiring a professional for heat pump maintenance will greatly increase your energy efficiency and lower your energy costs.
If you notice a leak, call a professional immediately to schedule heat pump repair and prevent further damage. Don't risk heat pump failure and high energy bills. Schedule heat pump maintenance in the Montgomery County, MD, or northern Washington, DC, areas today.
Contact us online or call 240-399-5051 to schedule service.
Why Choose James A. Wheat & Sons for Heat Pump Services in Gaithersburg?
Our team is licensed and insured, and we're passionate about what we do. As a family-owned and -operated business, we attach our name proudly to everything we do. We promise quality service and customer satisfaction every time.
Our heat pump maintenance and repairs will help you stay warm during the cold Maryland winters. We look forward to serving you soon.
If you notice a leak or want to be proactive, call Wheat & Sons at 301-670-1945 to schedule heat pump repair in Gaithersburg.
Any Service Repair
$50 off
expires 12/31/23
Purchase and Installation of Water Heater
$100 off
expires 12/31/23
Any Water Service or Main Sewer Replacement
$300 off
expires 12/31/23
Guarantee your family's comfort with an
Eagle Club Discount Membership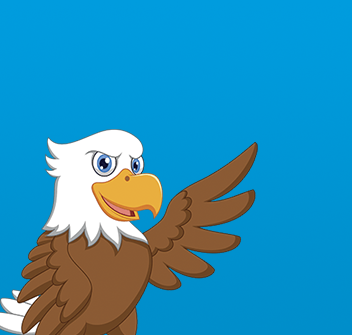 What Can We Do For You?
Contact Us Today!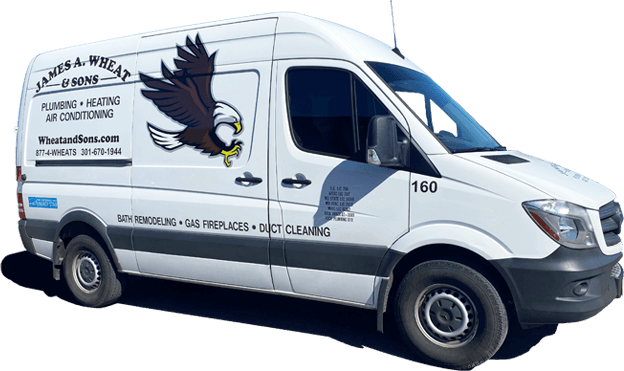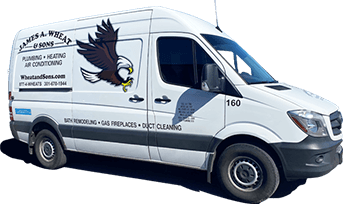 We Treat You Like Family
Let us ensure that you have the highest degree of home comfort and become part of the James A. Wheat & Sons family.
Same Day Service
Lifetime Warranties
Free Service Calls
Trained Technicians
Friends & Family Discounts
And Much More!
Learn More