Thermostat Services in Gaithersburg, MD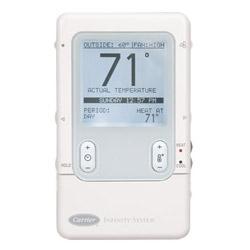 When it comes to keeping your home comfortable year round, the right thermostat can make all the difference. It is common knowledge that you can use your home's thermostat to set the temperature of your heating and cooling system, but did you know that installing the right kind of HVAC thermostat can help save you a bundle every year? Not only can a programmable thermostat deliver precise temperature, humidity and air treatment control to your home on your schedule, but if used properly, your programmable thermostat can save you money on your energy bills!
Are you interested in a high quality, reliable thermostat for your Maryland or Washington, DC home? The HVAC professionals at James A. Wheat & Sons are experts in thermostat installation, repair, and maintenance. Keep your home at the perfect temperature with the trusted help of our contractors! Call us at 301-241-9636 and schedule an appointment today or fill out the contact form on the right.
Benefits of a programmable thermostat
Are you thinking about installing a programmable thermostat? Trust us—it's a good decision! A programmable thermostat is accompanied by a myriad of benefits, including:
The ability to sync to your schedule. For example, if your family's schedule leaves your home empty for long periods of time (when everyone is away at work or school) the thermostat can be programmed to lower the temperature when no one is home and then raise the temperature when everyone returns.
Adjustable temperatures. If you want the thermostat to lower temperatures at night when your family is asleep in bed and raise them when everyone wakes up, you can! Once programmed, your thermostat adjusts the temperature settings automatically without you ever having to worry about it.
Adjustable settings. Even after it has been programmed, your programmable thermostat has easily adjustable settings. This allows you to use your programmable thermostat strategically, which may result in you saving a great deal of money on your monthly energy costs.
Energy efficiency. After installing programmable thermostats, many residents of the MD and DC area saw the cost of the product more than made up in energy savings!
Have an Emergency?
We Can Help!
Proper use of your thermostat
To ensure that your programmable thermostat is as effective as it can be, try the following maintenance tips.
Keep your thermostat away from other heating or cooling elements to provide the most accurate reading of your home's temperature. That way, you'll be aware of the productivity of your thermostat.
If you are going to be away from your home for a few days, set your thermostat to the lowest possible setting in the winter and the highest possible setting in the summer. This practice will minimize wasted energy (and save you money).
Another money saving tip: during the cold months, lower your thermostat setting by a few degrees at night or during a party when people's body heat will warm your house.
Avoid constantly adjusting your thermostat. Changing your thermostat once or twice a day is fine, but changing it too often will cause your HVAC system to turn off and on more frequently than needed. This will force your heating and cooling system to work harder—therefore be less efficient.
Our Thermostat Services
James A. Wheat & Sons takes pride in being a reliable source for thermostat installation and maintenance. Along with that, we offer the following services in the MD and DC area:
Become a member of our Eagle Maintenance Agreement for priority scheduling, 24-hour emergency and Saturday service, and 15% off all repairs or simply contact us today to schedule a consultation. We can't wait to make your home a safer and more comfortable environment for you and your family.
Schedule thermostat service with james A. Wheat & Sons today!
Few people are aware of how large of an impact their thermostat can have on their home's heating and cooling efficiency. If you are ready to experience the convenience and comfort of a programmable thermostat, turn to the professionals at James A. Wheat & Sons and see our family owned and locally trusted services for yourself.
If you want to install a programmable thermostat and take complete control of your Maryland or Washington, DC home's heating and cooling needs, call James A. Wheat & Sons today! Our trusted HVAC experts can help you implement the perfect thermostat for your home.
Any Service Repair
$50 off
expires 11/30/23
Purchase and Installation of Water Heater
$100 off
expires 11/30/23
Any Water Service or Main Sewer Replacement
$300 off
expires 11/30/23
Guarantee your family's comfort with an
Eagle Club Discount Membership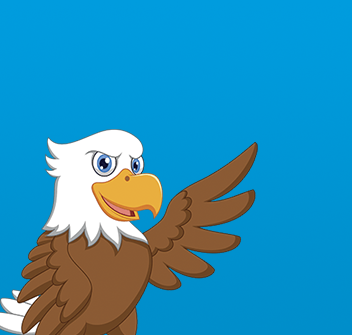 What Can We Do For You?
Contact Us Today!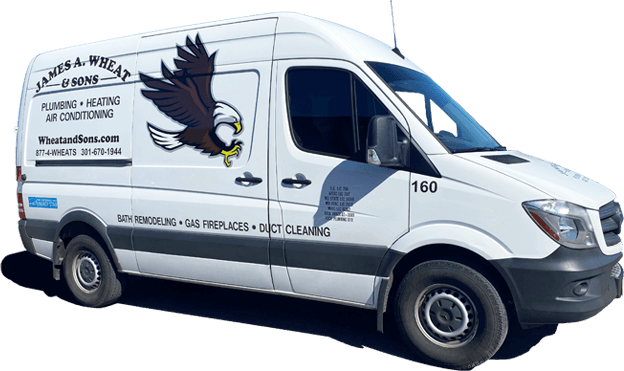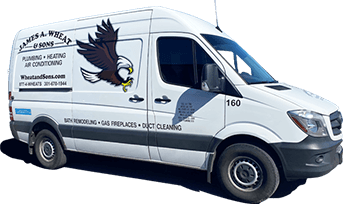 We Treat You Like Family
Let us ensure that you have the highest degree of home comfort and become part of the James A. Wheat & Sons family.
Same Day Service
Lifetime Warranties
Free Service Calls
Trained Technicians
Friends & Family Discounts
And Much More!
Learn More