Humidifiers in Maryland & DC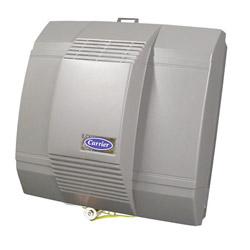 Is dry winter air making it hard for you to breathe? When your heater turns on during the winter, it causes moisture in the air to evaporate, leaving behind dry air that is scratchy on your lungs and damaging to your furniture. Installing a humidifier in your Montgomery County, Maryland (MD) or NW Washington, DC home can help alleviate dry, winter air woes by returning moisture back into the air. If you want to install a new humidifier in your home, call James A. Wheat & Sons to improve your indoor air quality today!
Types of humidifiers
Steam humidifiers – at James A. Wheat & Sons, we usually recommend steam humidifiers to homeowners looking to stay more comfortable in the winter. Steam humidifiers provide by far the most humidity to homes and have very little risk of mold growth. One of the biggest benefits of steam humidifiers is that they, unlike most humidifiers, can be installed in attics and other unconditioned areas in your home with no risk of freezing. Best of all, improvements to steam humidifiers have made maintenance extremely easy – just replace the canister at the beginning the heating season to enjoy months or comfort.
Flow through humidifiers – flow through work by dripping water through a foam or expanded aluminum pad. As the water drips down, it is picked up and carried through your ducts and into your home. There are two types of flow through humidifiers:
Fan powered humidifiers – fan powered flow through humidifiers use a fan to carry water vapor through your ducts.
Bypass humidifiers – bypass humidifiers use the airflow from your furnace to move water vapor around.
Any water from the flow through humidifier that isn't picked up by the furnace drains through the base of the humidifier. If you use a flow through humidifier system, you'll have to change the foam or aluminum pad once a year. If you don't, it could clog up or accumulate mold.
Wicking humidifiers – wicking humidifiers use a water panel to absorb water from a reservoir. The water is then evaporated and the vapor blown around your home. One of the best benefits of wicking humidifiers is that they are based on the existing humidity levels in your home, which means they naturally adjust themselves to maintain the perfect humidity levels every time. The water panel must be replaced twice a season in order to prevent mold growth.
Have an Emergency?
We Can Help!
Benefits of humidifiers
Installing a humidifier in your home provides many benefits to the health of both your family and your home's interior. Steam, flow through and wicking humidifiers can:
Ease symptoms of coughs, colds, flu and hay fever
Decrease static electricity and improves your home's atmosphere and air quality
Moisturize the body's respiratory system, allowing asthma sufferers to breathe and sleep easier
Hydrate your wood floors and furniture as well as your wallpaper, preventing your home's interiors from cracking
Reduce dust particles and kill bacteria
Additionally, installing a humidifier makes your home feel warmer. As heat causes moisture in the air to evaporate, the air pulls moisture from the skin, causing your body temperature to fall – this is the same reason you feel cold after stepping out of the shower or pool. As a result, a temperature of 70oF in a room with 80% humidity feels just as warm as 75oF at 20% humidity.
If you are tired of having dry air during the cold season and are interested in improving your indoor air quality, call James A. Wheat & Sons today. We can install a steam, flow through or wicking humidifier in your Maryland or Washington, DC home. Our goal is to make sure you and your family are comfortable and cozy all winter long!
Any Service Repair
$50 off
expires 11/30/23
Purchase and Installation of Water Heater
$100 off
expires 11/30/23
Any Water Service or Main Sewer Replacement
$300 off
expires 11/30/23
Guarantee your family's comfort with an
Eagle Club Discount Membership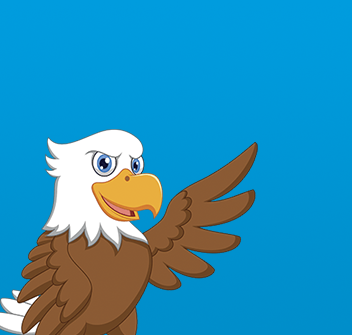 What Can We Do For You?
Contact Us Today!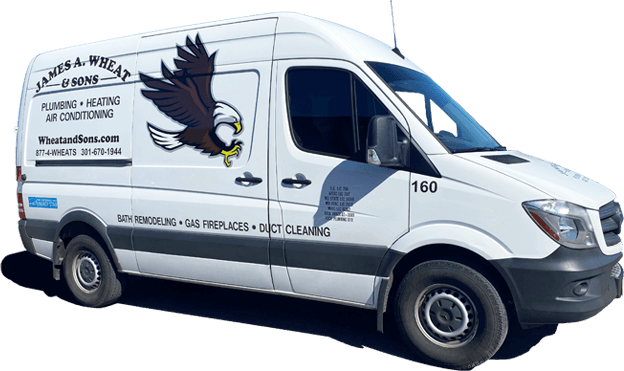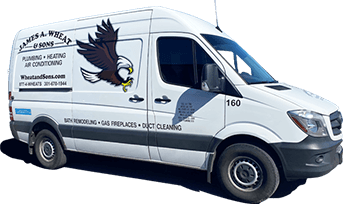 We Treat You Like Family
Let us ensure that you have the highest degree of home comfort and become part of the James A. Wheat & Sons family.
Same Day Service
Lifetime Warranties
Free Service Calls
Trained Technicians
Friends & Family Discounts
And Much More!
Learn More