Heat Pumps in Washington, DC, Gaithersburg, MD & Surrounding Areas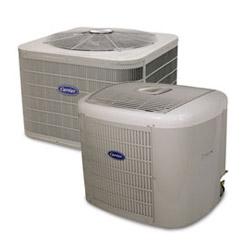 Are you looking for a new heat pump for your home or are you interested in updating the inefficient heating and cooling systems in your home? James A. Wheat & Sons is an authorized Carrier dealer, and we recommend their heat pump products for long-lasting comfort season after season.
If you need a new heat pump in Gaithersburg, MD or the surrounding areas, call us today at 301-670-1945!
What Is a Heat Pump?
If you're looking for an energy efficient heating and air conditioning system that will heat your home in the winter and cool it in the summer, what you need is a heat pump! During the spring and summer, heat pumps operate the same way air conditioners do, using a special refrigerant to pull heat out of the air in your home and a fan to blow the cooled air back in. The winter heating season is where heat pumps stand out—unlike furnaces, which burn natural gas or oil to create heat, heat pumps operate like an air conditioner in reverse, pulling heat energy from the outside air and blowing it into your house!
Since they don't burn fuel to produce heat, heat pumps are some of the most energy-efficient heating systems around—and at James A. Wheat & Sons, we can install your new heat pump expertly and efficiently.
Have an Emergency?
We Can Help!
Carrier Heat Pumps
We're an authorized Carrier dealer because we believe in the integrity and dependability of their products. Time and time again, we've seen their heat pump products perform at optimal levels for our customers. Carrier heat pumps come in all sizes and in all price ranges, so you're sure to find a system that's right for you.
Our experts at James A. Wheat & Sons can help you select the perfect heat pump for your home and install it for you.
Our Heat Pump Installation Services
Are you ready to make the jump from a furnace or steam radiator to an energy-efficient heat pump? Call James A. Wheat & Sons! We are an authorized dealer of Carrier heat pumps, and can install the perfect system to fit your home and keep you comfortable all year long.
Already got a heat pump picked out? That's fine! The Maryland heat pump installation experts at James A. Wheat & Sons can install or replace any make and model of heat pump, so call us today!
Learn more about heat pump installation »
Geothermal Heat Pumps
Geothermal heat pumps take heat that is produced by the earth and use it to heat and cool your home. Usually, the earth is cooler than the air in the summertime and warmer than the air in the wintertime, making geothermal heat pumps the most efficient type of heat pump because they rely on the relatively stable temperature of the earth.
There are two different types of heat pumps you can buy, depending on how much available space you have. A horizontal closed loop geothermal heat pump has a large pipe buried in trenches about 4 – 6 feet deep. When the geothermal heat pump turns on, a separate pump turns on and circulates water around the pipes, activating the heat exchange system.
A vertical closed loop geothermal heat pump requires much less land space. It requires a hole about 100 feet deep depending on the size of the system. From there, the piping works much the same way as a horizontal closed loop geothermal heat pump.
While geothermal heat pumps are much more expensive than air source style heat pumps, they are much cheaper and more efficient to operate and usually pay for themselves within a matter of five to seven years. Geothermal heat pumps also have a much longer lifespan than most air source heat pumps. As an added bonus, some geothermal heat pumps provide hot water.
Schedule a Consultation Today
If you need a new heat pump in Gaithersburg, Rockville, Silver Spring, Bethesda, or anywhere else in the Montgomery County, MD or Washington, DC area, call James A. Wheat & Sons! We can help you find a new heat pump product and install it expertly so you can enjoy a comfortable home all year long.
Contact us today to schedule heat pump services in the Gaithersburg or Montgomery County area or give us a call at 301-670-1945!
Any Service Repair
$50 off
expires 12/31/23
Purchase and Installation of Water Heater
$100 off
expires 12/31/23
Any Water Service or Main Sewer Replacement
$300 off
expires 12/31/23
Guarantee your family's comfort with an
Eagle Club Discount Membership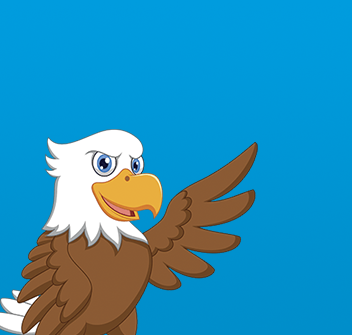 What Can We Do For You?
Contact Us Today!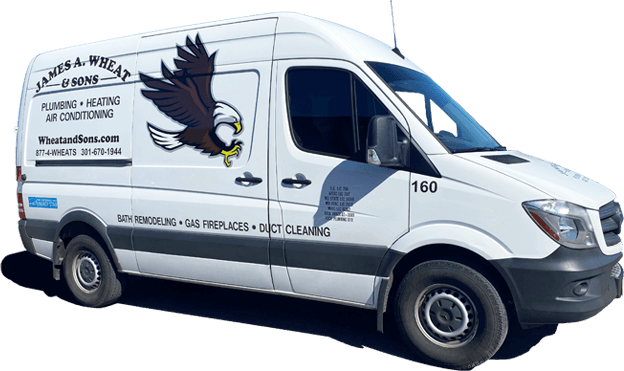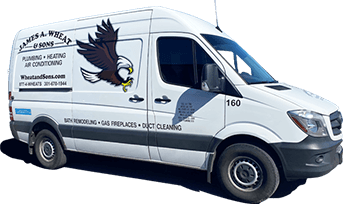 We Treat You Like Family
Let us ensure that you have the highest degree of home comfort and become part of the James A. Wheat & Sons family.
Same Day Service
Lifetime Warranties
Free Service Calls
Trained Technicians
Friends & Family Discounts
And Much More!
Learn More